cart membership
– $35 monthly –
15% gratuity included
members enjoy these benefits:
-one 30 minute massage a month
-hassle free monthly auto debit
-cancel any time after 2 months
– $35 for any additional 30 min.
-member rates for your guests*
-20% off for any gift certificates
-gift your unused services away*
-never need to bring your wallet
-Roll-over unused sessions for up to 6 months!
*must book guests through YOUR membership account using YOUR membership name. Tell your therapist who is coming in the "special requests" section or by emailing them at (theirfirstname)@tinymassage.com
Once membership is cancelled, you have 30 days to use up any remaining sessions.
---
MEMBERSHIP FAQ 
With over 10 unique therapists, we strive to make our membership program easy, affordable, hassle free! 
Your cart membership automatically renews monthly:
You will be charged $35 for your first month upon the start of your subscription and one credit/benefit will go into your account. If you do not use your massage that month, it's ok! Your benefits roll over for 6 months before they expire. You will continue to be automatically charged on the same date you signed up date each month until you email us to cancel. In other words, if you started your subscription on October 15, you would be charged October 15, November 15, December 15 and so on throughout your subscription period. We will always default to first using any remaining credits to pay for your massage and then will use your card on file to pay for any additional sessions. 
If you only want to pay for one 30 minute massage per month, you will need to WAIT UNTIL AFTER YOUR MONTHLY SUBSCRIPTION DATE TO COME IN FOR YOUR MASSAGE. For example, if your subscription date is the 15th, you must come in after the 15th to use your credit, we cannot refund your monthly credit if you come in before your renewal date.
How do I cancel my membership?
After the first 2 months, you can cancel your subscription at any time. You must cancel before your renewal date in order to avoid being charged for the next month. Simply email our support team here . Please make sure that you receive an email back from us confirming the cancellation. Membership fees are non-refundable. Once cancelled, you are no longer able to receive discounted massages, however, you have 30 days to use your remaining credits and you are always welcome to sign up again another time!
How do I book an appointment using my membership? 
When you book your appointment, make sure to use your membership account and always use YOUR NAME TO BOOK EACH APPOINTMENT, otherwise the booking system will automatically change the name on your account. To finalize your appointment, you will be asked to enter your credit card info. This is to hold the reservation only. After you receive your massage, we will always use any remaining benefits to pay for the massage and only use your credit card for any additional charges or cancellation fees.
How can I view my massage credits?
Log in using DESKTOP MODE. Select the orange tab marked "my account" (located to the right of your screen), then select the tab "series and membership." It will tell you if you have any available benefit credits. To find out the exact date you purchased your membership, click the tab purchases and look up the month you started your membership. You will see a $35 Tiny Massage charge and that is the day that the monthly payment will be collected. 
Here is a screenshot of a member with one credit in their account: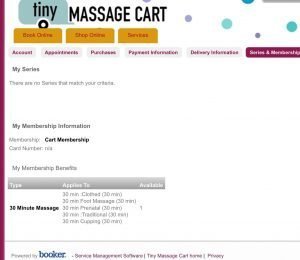 Can I use my membership for more than one monthly 30 minute massage? What about 60/90 minute and side by side massage?
Absolutely! Any additional sessions you book beyond your credits are also $10 off each half hour. You will also receive those same discounted rates for your friends when you bring them in as long as you BOOK ALL APPOINTMENTS UNDER YOUR NAME,otherwise the computer will automatically change the name on your membership account. You can let us know who is coming by writing it in the "special requests" section at checkout (desktop mode only). If needed, we can break up any longer massage into 30 minute segments so that we can use your benefit(s) first and give you the member price for the remaining time. For example the 30 minute side by side normal rate is $90/ Member rate is $70. If you had one credit to use, you would be charged the remaining $35.
Can I send a friend in my place? 
Sure! A perfect treat for your out of town vistors. In order to gift your benefits or use your discount for their appointment, you must be logged into your member account and book the appointment under YOUR name and email address or the computer will automatically change the name on your account to your friend's name. Then, tell us the name of the person coming in your place by emailing your therapist (their first name)@tinymassage.com or writing it in the "special requests" section during checkout (desktop version only). If you don't have benefits to use, we will charge the card you used to hold the reservation. Should your friend want to pay with a different card, they can let the therapist know.
How do I cancel an appointment?
Log in using DESKTOP MODE:  After logging in: To the right, you will select the orange "My account" tab> select appointments tab. Cancel the appropriate reservation. Our Policy: As long as we get 24 hours notice, there will be no charge. If we get less than 24 hours notice it will be a $20 charge. No shows/Late arrivals will be charged the entire amount (if you have any remaining credits we will use those first) If you cancel in under 24 hours and we can find another person to fill the entire slot, you will NOT be charged the $20 cancellation fee. 
Can I use my benefit/credits to give a gift certificate to a friend?
At this time, we cannot give members physical gift certificates in place of their benefits. Members are always welcome to send a friend in their place (see above section on booking an appointment) or purchase gift certificates on-line for 20% off by logging into your account and clicking on the certificate tab.
Can I give someone the gift of membership?
Instead of gifting a membership, we  recommend purchasing a gift certificate in any amount for 20% off! Log into your account and click on the certificate tab. 
Will I lose my massage benefits if I don't use them?
Your massage credits will roll-over for up to 6 months as long as you don't cancel your membership. Once you cancel, you have 30 days to use all your benefits before they expire.
How do I update my credit card?
Log in using DESKTOP MODE: Select the orange "my account" tab on the upper right hand side, then select the white "payment information" tab and update your card. Click here to log in.
Is gratuity included?
A 15% gratuity is included in your membership price. This means you never need to bring your wallet to the cart. if you choose to leave additional gratuity, you can always bring cash or tell your therapist you would like to add it to your bill.
Our memberships are almost at capacity and we will no longer be accepting new members starting June 9th. If you would like to join us before that date, please email relax@tinymassage.com.
Thank you for making us part of your wellness routine!